How do we celebrate each student as a stand-out while helping every child find the perfect niche?
At Campus School, we begin by embracing the intricacy of each child—knowing our students well as individual learners and valuing their unique academic strengths and personal passions.
Then we quickly help our students settle into our compassionate school community, guiding each child into transformative relationships with educators, meaningful friendships with classmates, and supportive connections with peers across grade levels. Here, we empower young minds to ask intriguing questions, test new skills, and dare greater mastery.
By sustaining an atmosphere of genuine warmth and intentional welcome, Campus School creates a steady space in which our students can boldly engage new concepts and capacities, proudly be themselves, and genuinely accept and embrace others. The result is a community united in brave ambitions and mutual respect, where everyone is accepted and appreciated.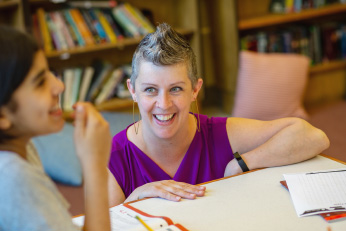 "Our community promotes a sense of belonging and safety, and that's key to being able to learn. If we can promote an environment where kids feel strong, safe, secure, and accepted for who they are, then they're going to be even better learners." - faculty member