What will you discover on our campus?
About Our Program

As the lab school of Smith College, Campus School is a hub of fresh thinking about teaching, learning, and community. Our seasoned educators deploy approaches to instruction that support the intellectual and emotional needs of modern learners while instilling foundational skills and habits of mind. As a result, Campus School children become not just capable, but confident and agile young thinkers, ready for the perpetually changing realities of a modern world.

Our campus is a warm atmosphere and a web of new ideas. We envelop children in a steady environment of support and recognition and immerse our students in the latest developments in teaching and learning.

Our campus is a site of experience and innovation, where masterful, seasoned teachers incorporate evolving, exciting methods.

And our campus is a place to learn about learning itself—where student teachers hone their craft under the watchful eyes of master educators, Smith College researchers deploy tomorrow's educational approaches today, and we leverage these remarkable resources to support the academic and individual development of our students—who emerge understanding how they learn best.

We instill an early drive toward and delight in discovery at Campus School—a foundational principle that both grounds our graduates as self-aware students and moves them forward as creative and critical thinkers.

Our Curriculum

The Campus School kindergarten through sixth grade program is designed to give students a foundation and act as a launching pad. The foundation is set in the early grades, where students learn the concepts, skills, and habits of mind that enable them to understand themselves and the world in which we live. Our curriculum is grounded in mathematics, science, social studies and language arts. This core curriculum is enhanced by art, music, physical education, technology, and Spanish, giving our students a well-rounded and challenging school experience. Students can also study violin and cello in 1st grade and trumpet, flute, and clarinet in 3rd grade and then perform in our orchestra. In addition, students in grades 4 – 6 can join our chorus.

Our teachers work collaboratively with our two learning specialists, the consulting psychologist, teacher aides, administrators, and student teachers to ensure the curriculum is taught in a holistic and dynamic manner. As students progress through the grades they master more complex content and concepts. We help students become critical and creative thinkers, understand multiple perspectives, and connect their learning to other subjects and the world outside of school. This makes learning meaningful and relevant.

Expectations for learning are set for each student, recognizing that each child is unique and that developmental norms can vary. We both challenge and support our students, finding the right balance for each child, which maximizes their growth and development as students and people.

When our students graduate from our school they are well prepared and ready to be launched into new successes and growth.

Curriculum Updates 2018-19

Campus School Curriculum Updates

 

Fall 2018 

Thanks to a generous grant from The Robbins-de Beaumont Foundation, every classroom at Campus School received money to dedicate toward the purchase of classroom library books this fall. The Robbins-de Beaumont Foundation recognizes that all learners come into reading differently and seeks to advance the work of educators as they support the goals, interests, and growth of the range of readers in their classrooms. Teachers of grades K-6 have spent the past month engaged in the work of carefully curating collections of new books. In October we read and discussed selections from a brand new resource, It's All About the Books - How to Create Bookrooms and Classroom Libraries That Inspire Readers (2018), by literacy experts Tammy Mulligan and Clare Landrigan. This book came highly recommended by our librarian, Emily Prabhaker, and third grade teacher Jan Szymaszek. It deepened our knowledge about approaches to building classroom libraries that engage all of our students as they grow into lifelong readers and moreover feature diverse books. We also considered the authors' recommendations for how to leverage the classroom library as a means for building community among students. The classroom library project builds upon professional workshops about reading that were funded by the Robbins-de Beaumont grant last year.

Together we have immersed ourselves in exploring the troves of innumerable resources that provided us with additional ideas and insights regarding how to supplement our current library inventories with tried-and-true and more recent titles alike. We found many wonderful examples of book collections that served as models for our own classroom library development. It is truly awe-inspiring to see the now sizable and ever-growing quantity of excellent literature that has emerged as a result of the national call to diversify the content and perspectives represented in books for children at all stages of development as readers. Many teachers sought new titles to support grade level curriculum, extra copies of high interest books that students can read together, and series that inspire children to follow characters and plot lines out of one book and into the next. Teachers also invested ample time in collaboration around developing their book lists. In addition to working in grade level teams, teachers shared ideas with vertical colleagues in the grades above and below their own.

I would like to extend special gratitude to everyone who was involved in our classroom library work. To our teachers, who positioned themselves both as experts and learners as they thoughtfully and meticulously built unique, exciting collections tailored to their students and their curricula. To Emily Prabhaker for her help with identifying the resources used to launch the work, and for always making herself available to her colleagues. To Kimberly Hoyt for her help with the ordering logistics. And to the Robbins-de Beaumont Foundation for providing the funding that made this venture possible. We are delighted to have these new books to share with our students for years to come.

 

Winter 2019

One of the hallmarks of curriculum design at Campus School is the collaboration that both drives and brings it to life. It is an extraordinary experience to see and participate in this work. I think - and have long thought - that the energy in the work comes from the process, challenge, and creativity around innovating to make learning dynamic. Moreover, that energy is the lifeforce of teaching. It defines and supports teaching as discovery work.

To offer an example, I recently sat down with our first grade teachers to think about their Great Changers unit. They brought their carefully planned curriculum. They also brought a team of colleagues from throughout the school (in addition to the thoughtful insights from those colleagues who could not be present at that moment). Every educator at the table was committed to supporting the unit. The technology, library, Spanish, and art disciplines were all represented. The fifth grade teachers, whose students are the first graders' reading buddies, also joined in to think about possibilities for developing some multi-age learning opportunities. The outcome of the collaboration was a deeply reflective unit plan that is designed not only to bring learning to life via an interdisciplinary approach, but to also dovetail with curriculum in other realms of our school. Moreover, this unit lays a foundation for second grade's deep study of the Montgomery Bus Boycott, and this year's new library-based unit for third graders, "The Fairness Timeline."

The professional learning community that lives in the spaces of curriculum work at Campus School exemplifies the role that teachers can hold as designers and innovators. This kind of collaboration is commonplace at Campus School, whether it is between grade level partners, teachers and experts at Smith College, committees that have convened around a problem of practice or a goal in our strategic plan, or teachers who are working with Smith students and professors, or other community partners. This semester, we are delighted to be working in concert with a number of collaborators within our network. Here are some highlights:

Second and Fourth Grade have launched a multifaceted collaboration with the Smith College Art Museum and the Enchanted Circle Theater (http://www.enchantedcircletheater.com/). The work will center around an interdisciplinary study of the much-anticipated exhibit, "Plastic Entanglements," which will be on display at the Art Museum from February 8th - July 28th (read more here: https://www.smith.edu/artmuseum/On-View/Upcoming/Plastic-Entanglements-Ecology-Aesthetics-Materials). Both grades will be working with Gina Hall, Associate Educator for School and Family Programs, to explore and analyze the works featured in the exhibit on a number of occasions. Additionally, a teaching artist from Enchanted Theater will join the second and fourth graders several times to develop a theater presentation that both responds to the exhibit and reflects students' learning about the impact of plastic on the world, particularly over the course of the past 50 years.

Third Grade has launched the beginning of their trout unit. Students are raising and studying the life cycle of the trout. An exciting new feature of the river and trout studies this year is a collaboration between Third Grade and the Smith College Poetry Center. We are delighted to host an independent study on place-based poetry that is designed and led by a senior student at Smith and overseen by the Poetry Center's new director, Matt Donovan. The independent study will serve as an initial exploration of how a college-affiliated lab school can collaborate with a college poetry center, and will involve the development and delivery of a series of poetry workshops related to third grade's river and trout studies. Part of the Poetry Center's mission is to connect with schools and find innovative ways to support poetry curriculum for children. We are forward to finding additional avenues for collaboration with the Poetry Center as time goes on. This work has also benefited greatly from the support of Carol Berner, a faculty member in the Education Department, whose many interests include working with the Connecticut River Conservancy and the teaching poetry to children.

Meanwhile, a number of teachers are working with Smith students who are taking a research seminar with Bona Kang, who is also a faculty member in the Education Department. Together they will explore a range of questions about teaching and learning. Additionally, Smith's new co-director of the Design Thinking Initiative, Emily Norton, has been working with us to explore authentic opportunities to collaborate around design thinking alongside students in the course that she is teaching this semester. One of Norton's areas of expertise happens to be working with independent schools. She is delighted to partner with us, and we are eager to share news about our first pilot projects as they take form.


On one final curricular note, did you know that you can keep up with the technology curriculum by visiting Ms. Marks' website? Ms. Marks encourages you to take a look and talk with your child about the skills and projects that they explore in Technology Class each week: https://sites.google.com/smith.edu/csweb The website includes direct links to examples of student work, such as stop motion videos and animated Mondrian paintings. There are also links to sites that different grade levels have been using over the course of the year to learn skills such as keyboarding, coding, and podcasting. Stay up-to-date on technology announcements from Ms. Marks, and also take a look at the projects that the after school technology group has put together with iMovie! Take some time to explore technology with your child and hear what they are learning about in the computer lab.

 

Spring 2019 

Campus School possesses an alluring, intellectual vibrance. Its atmosphere is characterized by curiosity's pulse and thrum. One way that our community rallies around the life of the mind is by engaging with each other through shared experiences that are grounded in partnerships with Smith. As a lab school we seek to regularly interface with Smith students and professors, and also our innovative colleagues in offices throughout the College. Our collaborations often begin as grassroots work: seeds of ideas that grow through imagination, collaboration, and carefully coordinated effort. To "rally around the life of the mind" is to fuel and shape these ideas with wonder and exploration, and the sense of purpose that comes from knowledge-building in the shared pursuit of new understanding. The spring semester has been an exciting case study of how our connections with Smith allow for the cultivation of unique experiences for all of the learners involved, whether they are students in grades K-6, Smith students, faculty, or staff, or Campus School faculty. What follows is a sampling of our latest collaborative endeavors.

At the end of March, the whole school gathered in the gym for an upbeat, smile-inducing, interactive dance performance that was developed and delivered by Five College students in Professor Marilyn Scylla's course, "Dance in the Community." Each year, Professor Scylla's class performs for a wide range of groups in the region. The goal is for audiences to learn about a diverse lineup of dances, and to learn and try some of the basic choreography under the guidance of the dancers. The assembly was a wonderful opportunity to immerse ourselves in the arts for an hour, alongside a group of enthusiastic college students and their passionate professor.

Our next whole-school gathering occurred shortly thereafter, when we assembled in John M. Greene Hall to see a powerful show presented by our second and fourth graders, their teachers, our artist-in-residence, Melissa Redwin (Enchanted Circle Theater, Holyoke), and Gina Hall, Associate Educator for School and Family Programs at the Smith College Museum of Art and longtime Campus School partner and collaborator. The show was a response to and interpretation of a prominent exhibit, "Plastic Entanglements," that is currently on display at the Museum. The culminating work of the intensive residency was deeply powerful and wholly engaging for all in attendance. A group of second and fourth graders also presented selections of the whole piece at Community Day at the Museum this past weekend.

Meanwhile, our entire school recently participated in the community engagement component of a design project connected to a Landscape Studies course taught by Smith professor Reid Bertone-Johnson. All classes have spent time thinking about their current experiences of being on our playground, as well as imagining possibilities for the near and possibly further-out future that might be possible through creative landscape design. We are eagerly anticipating the design proposals from the students in Professor Bertone-Johnson's class. Fifth graders are immersed in a parallel design thinking project led by students in a course taught by the Co-Director of the Design Thinking Initiative, Emily Norton. This project seeks to explore the dynamics of community through the lens of our playground, and the fifth grade classes are in the process of considering how communities form and evolve, as well as how place informs community. This theme will fold into their upcoming study of Colonial America. Sixth graders have also continued their exploration of design thinking through integrated curriculum this semester. On a final playground note, kindergartners had the opportunity to extend their bulb study through a connection to the Botanic Garden of Smith College that was made possible by a student in Professor Bertone-Johnson's Landscape Studies class. At the end of the annual Spring Bulb Show, the Botanic Garden generously donated an enormous selection of bulbs to Campus School to plant around our playground. With the help of the Smith student, this project is well underway, and our kindergartners have played an integral role in making the planting possible.

Finally, our collaborations with Smith students have continued through a wide range of courses. We are hosting innumerable aspiring educators in our classrooms on a daily basis, and teachers and professors are engaged in a number of course-based projects that involve close study of best practice in curriculum. I look forward to sharing more about the final outcomes of these projects as the semester winds down. First graders have just begun a water study in collaboration with Carol Berner, a Lecturer in Education & Child Studies who greatly enjoys working with Campus School teachers and students on science-related collaborations. In a similar vein, our pilot Poetry Center collaboration is in flight: a wonderfully talented and driven Smith senior is delivering exceptional, original poetry workshops for both of our third grade classes on a weekly basis. The workshops are full poetry immersions that intricately incorporate the classes' river and trout studies. The workshops will culminate in a published book featuring a poem by each student and, in the spirit of Smith College Poetry Center tradition, a student-created broadside (read more here: https://www.smith.edu/poetrycenter/wp/gallery/broadsides/). Students will also present their work at a reading at the Poetry Center with Director Matt Donovan, who has become a steadfast, energetic Campus School partner.

Campus School is committed to partnership with Smith College. We have been delighted to hear about, imagine, and bring to life the ideas of members of our community, and we are looking forward to new projects on the horizon. This work is what makes the Campus School truly special.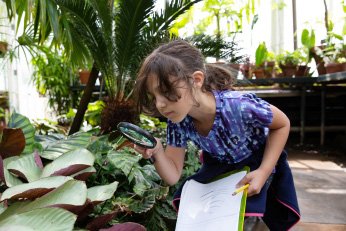 "We teach our students to be curious, and their inquisitiveness keeps them moving forward all their lives. When you're genuinely curious about what might happen next, you instinctively look to the future." - faculty member